Power Washing Chatham, NJ
Chatham, NJ 'S Best Power Washing Service
Professional Power Washing in Chatham, NJ
If you want your house to be completely clean, you need to pay special attention to exterior cleaning. This way, not only will your house look attractive, but it will also be cleaned of mildew, mold, dirt, grime, and fungus. When deciding on a professional exterior cleaning service, you need to know if you are looking for pressure washing or soft washing. Pressure washing and soft washing are both very effective ways to wash your home's exterior. The only difference between them is that they achieve results in different ways. Pressure washing strongly removes all grime or dirt from the surface with the help of high pressure. This method is extremely effective, but it carries with it the risk of harming the property. Instead of high pressure, soft washing uses effective chemicals that are safe for your home as well as your family and animals.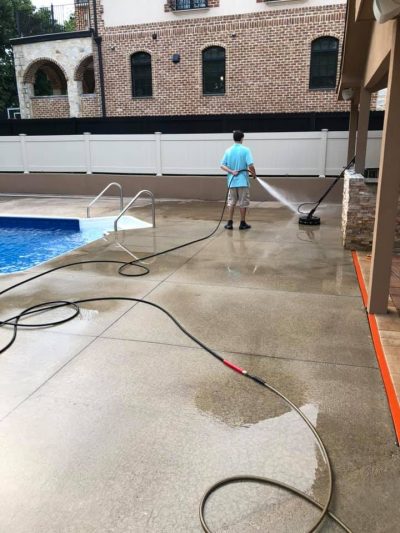 Get the best power washing in Chatham, NJ
Whether you just want to improve the look of your home before putting it on the market, or just want to improve the look and cleanliness of your home, we are here to help! Power Washing Chatham, NJ will make your home shine like never before at an affordable price. Each of our employees has undergone special training to set new standards in power washing. We will approach your property extremely professionally, with the latest equipment. Regardless of the degree of dirt and grime, we will effectively and in promptly time clean it completely.
Our Chatham, NJ Pressure Washing Services Will Increase
Increase your homes curb appeal with our Chatham, NJ power washing
Curb appeal, why is it so important? For people who want to sell their home on the market, a clean exterior will help them attract more buyers. Creating a positive and impressive first impression will depend on the exterior of the home. Scientists have proven that a person makes the first impression within the first seven seconds. It will also increase the value of your home. And for those of you who are not selling your home know that there is something about feeling proud when the exterior of your home is spotlessly clean. Regularly cleaning the exterior of your house with power washing will extend the life expectancy of your house and prevent other harmful things from accumulating quickly again.
Why choose our Chatham, NJ power washing
Power Washing Chatham, NJ offers a complete professional power washing service with an experienced crew that has done this work for many years. We apply the latest methods with the highest standards, and with environmentally friendly products that are safe for you, your family, and your pets. Our workers approach every business and home with care, so your property will not be damaged in any way – not even the smallest plant! We know that a satisfied client is the best possible advertisement, that's why a satisfied client is our only possible client! Give us a call and see why Power Washing Chatham, NJ have been in this business for so long!
We'll Increase Your Curb Appeal Instanty
Ready To Rejuvenate Your Home?
Our Core Exterior Cleaning Services
[max-details title="About Chatham, NJ" location="Chatham, New Jersey" limit="10″]
[max-neighborhoods title="Areas In Chatham, NJ" location="Chatham, NJ" limit="30″ sort="desc"]
[max-activities title="Things To Do in Chatham, NJ" location="Chatham, NJ" address="Chatham, New Jersey" limit="12″ sort="desc"]